Select language
HairTIDE PLUS forte peptides for hair and nails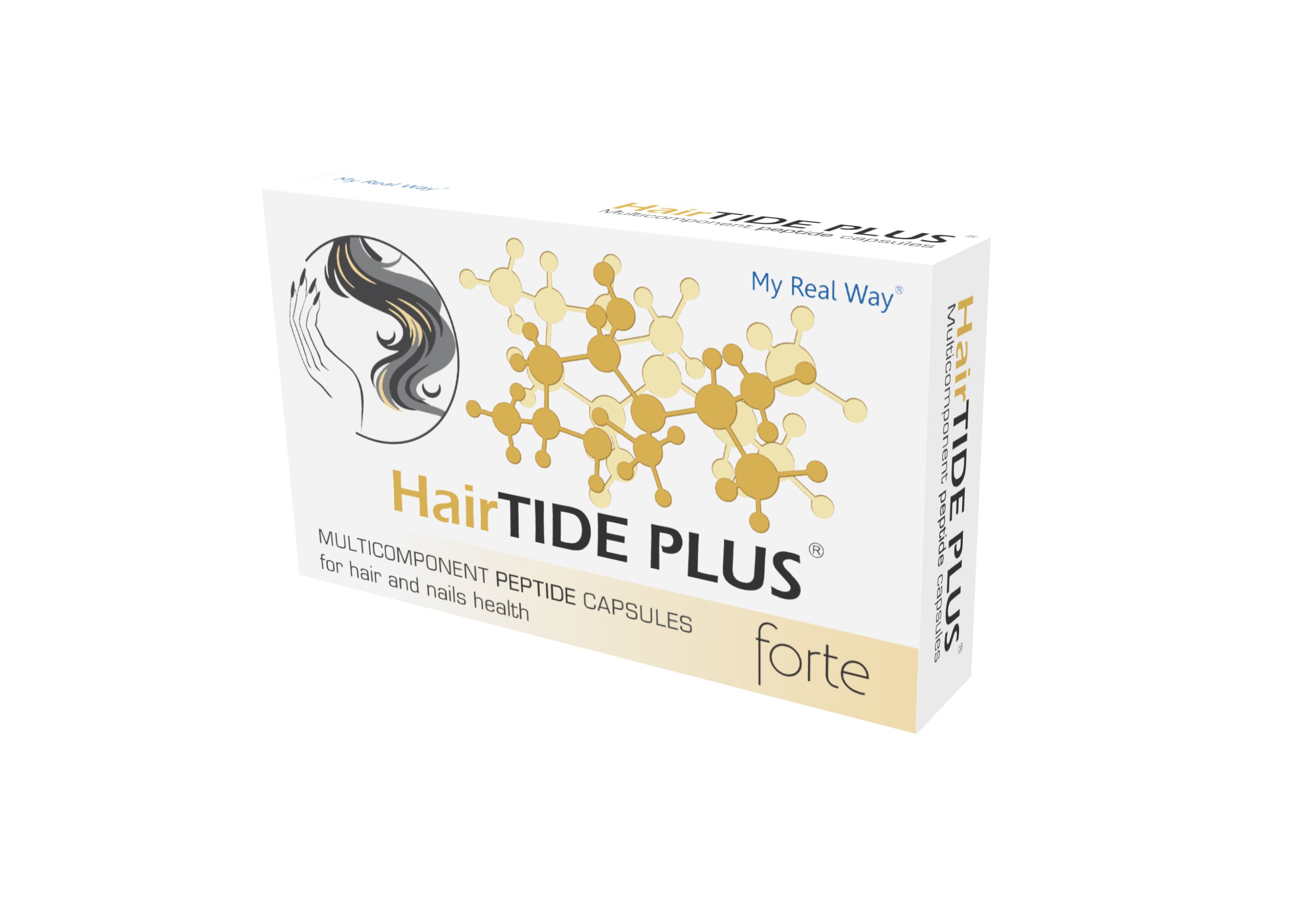 Product code: 4779038830342
Expiry date: 30.04.2026




Peptide complex to maintain structure and nutrition of hair and nails.
Release form: pack of 30 capsules.
Capsules are produced from a special stable polymer of a plant origin without chemical impurities — hypromellose.
HairTIDE PLUS forte is a multi-component peptide bioregulator with intensified properties to nourish and strengthen the structure of hair and nails.
Hair loss, alopecia, thin hair, weak and brittle nails are problems that occur in both men and women as a result of hormonal disorders, stress, intoxication, aging, or the postpartum period in women. Hair and nail cells constantly need additional nutrition, which can be provided by multicomponent bioregulators with peptides, minerals, vitamins, and medicinal herbs.
How peptide bioregulator for hair and nails work
The therapeutic concentration of natural short bioactive peptides of an animal origin is intensified with zinc, vitamin E, vitamin A, selenium, dry horsetail, and biotin.
The therapeutic effect of the bioregulator is achieved due to the synergy of all components. Peptides, enter cells through the small intestine and bloodstream, trigger the synthesis of hair and nail cells, restore cellular work rhythm, activate the body's internal resources, thus preventing the development of destructive and pathological processes in tissues. Vitamins, minerals, and plant extracts intensify the work of peptides and nourish the intercellular space. Peptides are conductors for all minerals, vitamins, plant extracts that make up the complex and pull them along, bringing them to the cell. The main principle of peptide therapy is to ensure — 100% absorption of all nutrients and long-term effects after the course.
Biotin in the bioregulator formula is a water-soluble vitamin B, known as vitamin H, vitamin B7, and coenzyme R, necessary for restoring hair and nails structure. Biotin plays an important role in creating the basis of keratin, which both nails and hair consist of, and helps to eliminate flaking, scalp seborrhea, prevent premature graying of hair, alopecia, brittle hair and nails.
Regular intake of the product prevents hair loss and activates hair growth, eliminates hair fragility, strengthens nail plates, stimulates cell metabolism, hair follicle, and nail plate. The bioregulator does not contain dyes, GMOs, flavors.
Recommendations for use (prevention and complex therapy):
Nail diseases (fragility, delamination, impaired nail growth), nail dystrophy
Hair diseases (hair thinning, split ends and brittle hair, hair loss (alopecia), premature graying; increased oiliness or dryness of hair
To restore hair structure in the presence of various types of disorders (eating disorders, lack of healthy diet, vitamins and minerals in the body, adverse environmental effects, medications, hormonal disorders, stress)
Prevention of age-related changes that affect hair and nails.
Contraindications:
Increased individual sensitivity to the components; period of pregnancy and breastfeeding; underage children (due to lack of data).
How to use in complex therapy:
Take 1 capsule daily, 30 minutes after a meal with a glass of water. The recommended duration is 2-3 months.
| | | |
| --- | --- | --- |
| | 1 capsule | NRVs * |
| Biotin | 50 µg. | 100 % (NRVs 50 µg.) |
| Zinc | 10 mg. | 100 % (NRVs 10 mg.) |
| Vitamin E | 12 mg. | 100 % (NRVs 12 mg.) |
| Vitamin A | 800 µg. | 100 % (NRVs 800 µg.) |
| Selenium | 55 µg. | 100 % (NRVs 55 µg.) |
| BCAA amino acid complex (peptide complex NY, L-arginine, N-acetyl-L-cysteine) | 150 mg | - |
| Common horsetail (Equisetum arvense) herbs extract (equiv. 10 mg of silicon) | 142,86 mg | - |
* NRVs - nutrient reference values
To enhance the therapeutic effect, it is recommended to combine the bioregulator with other My Real Way peptide bioregulators and peptide-polysaccharide complexes, depending on the pathology
Restoration of hair and nails structure due to the thyroid gland dysfunction
| | |
| --- | --- |
| HairTIDE PLUS | Restoring hair and nails structure |
| ThyroidTIDE PLUS | Normalization of thyroid function |
Age-related hair and nails changes in women
HairTIDE PLUS

Restoring hair and nails structure

WomanTIDE PLUS or
MenoTIDE PLUS (in menopause)

Prevention of premature aging and strengthening of women's health, restoring the work of female reproductive system, regulating endocrine disruptors during menopause

ThyroidTIDE PLUS

Normalization of thyroid function
Improving hair and nails conditions in men
| | |
| --- | --- |
| HairTIDE PLUS | Restoring hair and nails structure |
| LiverTIDE PLUS | Improving liver health |
| ActiManTIDE PLUS or ProstaTIDE PLUS | Strengthening men's health, prevention of sexual dysfunctions |
Improving hair and nails conditions 18+
| | |
| --- | --- |
| HairTIDE PLUS | Restoring hair and nails structure |
| ImmuneTIDE PLUS | Strengthening immunity and vitality |
Improving hair and nails conditions 35+
| | |
| --- | --- |
| HairTIDE PLUS | Restoring hair and nails structure |
| MicrofloraTIDE PLUS | Normalization of intestine functions and metabolism |
To evaluate the effectiveness of the multicomponent peptide bioregulator HairTIDE PLUS forte, a study was conducted involving 8 patients (2 men and 6 women) ages from 32 to 56 years.
Prior to the trial, patients complained of hair loss, dryness of scalp, thinning of hair and split ends. Symptoms appeared in different patients due to various disorders: hormonal imbalance, postpartum period, menopause, stress, lack of vitamins, infectious diseases and long-term medications.
The patients were prescribed to take therapeutic peptide bioregulator HairTIDE PLUS forte 1 capsule per day for 30-45 days.
At the end of the course, all patients without exception noted significant improvements of the hair condition: hair loss decreased and hair growth significantly improved. Additionally, patients noted the strengthening of the nail plate.
Side effects or addiction to the product in patients have not been identified.
Patients were advised to continue taking HairTIDE PLUS forte in combination with other My Real Way bioregulators for symptomatic and pathological conditions.
The study was conducted in 2022 by certified specialists from the Department of Restorative Medicine and Nutrition of the European Scientific Society at the Academy of Natural Sciences (Hannover Germany).
Contact information
REAL WAY", 584 Charles-Quint avenue, Brussels, 1082, Belgium
---
Real Way" LLC, Company code 300639047, Konstitucijos pr.15-23, Vilnius
Safe payments

UAB "Real Way" © Copyright 2021.
Our site uses cookies
Our website uses cookies and similar technologies to provide you with the best user experience by providing personalized information, remembering marketing and product preferences, and helping you get the right information.
By using this site, you agree to the use of cookies in accordance with this notice in relation to this type of files.
If you do not agree to our use of this type of file, then you must set your browser settings accordingly or do not use the site www.myrealway.com